The UK's No.1 Independent Bed Retailer
Call our sleep experts on 01642 613684
Bespoke Beds
Unleash your imagination
Start Designing Your:
Bespoke Bed Frames
Design Your Own Bed Frame
Why search through the thousands of bed frames available online, when you can simply design your own from scratch? Choose your size, fabric, base type and headboard, and have the bed of your dreams custom made to your own requirements. Need something simple but stylish? You've got it. Need your bed to have Ottoman storage, with a Chesterfield wing-backed headboard? You can have that too.

Get started on your bespoke bed frame using the button below: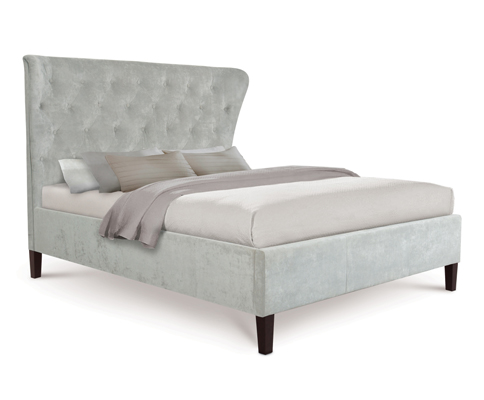 You Have Total Control
Using our Build-A-Bed-Frame page is easy! Start with your size and choice of upholstery, before customising the bed base and headboard style. The page is clear and simple to use, with a visual representation of your creation being shown at all times. You'll also be armed with all of the info you could need too, with specifications for each part of the bed, a full comprehensive list of dimensions, and the ability to familiarise yourself with the assembly instructions, even before committing to your order.

Zero hassle. Zero confusion. Total control!
A Wealth of Base Options
Why choose form over function, when you really can have both. The Standard base gives clearance underneath for your own storage solutions, but if you'd prefer a more elegant approach, the other base types incorporate the space into the bed frame itself. You can add various drawer configurations or even ottoman storage, with an additional deep-fill ottoman option to truly maximise its capability!

Quality parts ensure a smooth glide to the drawers, whilst the power gas strutted mechanisms in the ottoman bases, ensure you can open and close your new bed with ease.
A Range Of Contemporary Fabrics
There's everything you need to achieve the perfect look to your bespoke bed frame. With a range of contemporary fabrics to choose from, you can truly ensure your new bed compliments your bedroom decor. Do you opt for a softer tone to match your furniture and curtains? Or are you opting for a the daring contrasts of a dark/light colour scheme?

Whatever you're picturing in your head, we've got the tools to bring your imagination to life!

Click here to get started
Bespoke Mattresses
Harrison Spinks - Natural Handmade Mattresses
If you're looking for the finest natural materials, highest standards of traditional craftsmanship and latest in technological innovations, look no further than Harrison Spinks. When it comes to premium quality beds and mattresses, Harrison Spinks are royalty within this industry. Not only are the mattresses proudly handmade in Yorkshire, but their lives actually start on Harrison's own farm land, with the natural materials coming from their own livestock. This not only gives them direct control over the quality of the mattress fillings that are produced, but it allows them to ensure that sustainable practices are being followed, reducing the negative impact on the environment. These bespoke beds and mattresses come with various options, including your choice of mattress tension, blend of fillings, spring count, and storage. Every bed is specially crafted for its new owner, to their requirements.


Their Heritage
Harrison Spinks are a family run business, which has been manufacturing bespoke beds & mattresses since 1840. Not only have they passed their skills and expertise down through the generations, but many other families within the business have done the same. This pride has helped them to maintain the traditional techniques that they hold dear, whilst also integrating this craftsmanship with forward thinking innovations. From early adoption of Pocketed Springs, to the 'Prop-Up-Bed' and the Revolution 'spring-within-a-spring', Harrison has always kept up with technology offering goods which improve quality of sleep beyond what was possible before.
Hornington Manor
In 2009, the company purchased this 300 acre farm, which is situated just 18 miles away from their factory in Leeds. Harrison use 100% natural fillings within their mattresses, not just for the exceptional luxury given, but for the unique properties and benefits that synthetics are unable to provide. Did you realise that wool for example, is resilient and tough, despite being soft to the touch? It also has the uncanny ability to help keep you warm in winter, whilst its absorbent qualities keep you cool during summer. Additional materials come from other farms in Yorkshire too, supporting the local economy and British farming in general.
Made To Measure Mattresses
If you require a truly bespoke product, all Harrison Spinks mattresses can actually be custom made to your own dimensions. This is great for completing the luxury of an antique bed frame, as many were made in non standard sizes. The same goes for imported bed frames too, or perhaps one you've had made specially for your property.

If you need a special size Harrison mattress or bed, please contact us on either 01642 613684 or sales@linthorpebeds.co.uk and we'll work out a quote for you. We can even help you develop your ideas if you're a bit unsure of what you need.
Linthorpe Beds - Bespoke Size Mattresses
If you need a non-standard size mattress, you've come to the right place. We have the widest selection of mattress styles and sizes, available online. A made to measure mattress, truly bespoke and made to your dimensions is the perfect solution for antique bed frames, IKEA beds, DIY projects, kids novelty beds, foreign bed frames. Just enter your measurements and the prices are instantly generated across our range, for you to browse and purchase at your leisure.

We have something for everyone too, with traditional springs, pocket springs, reflex foam, memory foam, laygel, natural fillings and even hybrid mattresses. It doesn't matter if you just need a quick fix for a spare bed, or if you're looking for a luxurious and opulent mattress for yourself. If you're in a bit of a pinch and need something quick, we've even got you covered there as well, with express delivery options including Next Day. Regardless of your option, every mattress os freshly made.


Bespoke Divan Beds
Divan Beds - Designed By You
At Linthorpe Beds we put the power in your hands. Your bed should not only reflect what you need in terms of comfort, but it should adhere to your tastes in style, compliment your decor and hit all the high notes in terms of practicality too. With this being the case, we have a huge range of divan beds with customisable options. Some manufacturers take this more seriously than others, by not only having a large range of fabric options, but complimentary headboards, the option of castors or feet, storage configurations with drawers, or even an ottoman style base. You can tailor your new bed to duit your needs.

We've hand picked 3 ranges which focus on giving you a wealth of options. To get started with your bespoke divan bed, choose from one of the suppliers below: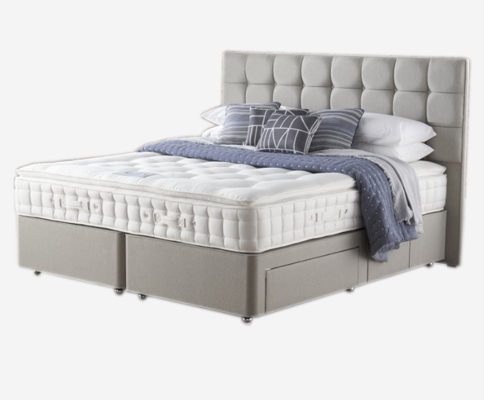 Made To Measure Divan Sets
Over the past decade Linthorpe Beds has established itself as the market leader when it comes to offering made to measure beds and mattresses. Our Custom Size Divan Beds are available in a huge array of sizes, ensuring you can achieve the perfect fit in any bedroom. Widths start from as narrow as 2'3" (69cm), going all the way up to 6'0" (183cm). Lengths range from 5'0" (152cm) to 6'6" (198cm).

Customisation of these divan beds doesn't end with just the size - far from it!

You have the power to build your new divan bed from the ground up. Use the link to get started, or read on for for information.


Start With Your Mattress
After choosing your size, you'll be given a range of mattresses to choose from, even having the choice to buy your bespoke divan base on its own if you wish. Comparing mattress specifications is easy - click on the various icons to learn more about what they mean. This way you can compare mattress tensions (i.e. how firm or soft they are), spring systems and types of fillings. If you need help figuring out what would be most suitable for your needs, simply give us a call on 01642 613684 and a sales advisor will be happy to assist.

Remember that comfort is always the most important aspect to consider when buying a new bed.

Bespoke comfort as well as style!
Options Galore!
Once you've settled on a mattress, you can select a storage option if you wish, with various two and four drawer configurations at your disposal. If you're going to have the bed against a wall, two drawers down the same same side is ideal for storing extra bedding whilst ensuring you have complete access. If you have bedside tables next to your bed, continental style drawers (two large drawers at the bottom and two smaller ones at the top), ensure you can still open them all with ease.

Next you can choose from a dozen headboard options, which include luxurious floor-standing pieces, too. Over 30 fabric options ensure you can create the perfect look to suit your style and existing bedroom decor!
Delivery Within 2 Weeks
You can choose an exact date for delivery at the checkout stage, with weekend delivery and disposal of your old bed each available for a small fee.

After you've placed your order, your new bespoke bed will go into production at our factory, based on the exact specifications you've given us. After this, we do a stringent quality control check at our main warehouse, before prepping your goods for collection.

The delivery itself will be handled by Panther Logistics, a specialist 2 Man Delivery company. They'll send you an ETA the day before and call you directly when they're on the way. Your new made to measure bed will be carried up to the room for you as well.
Bespoke Ottoman Beds
Design Your Ottoman Frame
Ottoman beds are the perfect way of maximising the storage capacity of your bedroom. Why take up space in your wardrobes for extra bedding and pillows, when you can simply store them within the bed itself? The mechanism allows you to lift the mattress up, held in place by powerful gas struts, leaving both of your hands free to place and retrieve items.

We give you all the tools you need to achieve the perfect style of ottoman bed for your bedroom. Choose the headboard design and fabric options to create the bed of your dreams! Get started with the link below:


Custom Ottoman Divan Beds
Divan beds also come in the ottoman style too. Again there are a range of features you can customise...including the dimensions! Head over to our Special Size Ottoman Beds page where you can specify the width and length of your bespoke ottoman, choose from a range of mattresses (made to fit), before moving on to fabrics, headboard options, types of feet, you name it!


Bespoke Headboards
Design Your Own Headboard
Our exclusive Excelsior Headboard range gives you all the options you could possibly need to create your desired headboard style. With 40 styles to choose from, available in floor-standing or wooden strutted forms, along with over 60 fabrics to choose from, there are literally thousands of combinations at your disposal, ensuring you can find the perfect finishing touch to any divan bed, in any size.

Start by clicking the link below, or read on for more information:


Standard Or Premium
Every Excelsior headboard is available in two variations: Standard & Premium.

Standard means that the headboard comes with a set of wooden struts. These allow you to affix the headboard to your divan base, concentrating the design on the space visible above your bed. This is a great way of keeping the price lower, without compromising on style.

Premium headboards have the perfect finish, trading the rough and ready design of strutted headboards, for a full height solid design. This keeps the headboard level at all times, without the need for readjusting the balance over time.
Over 60 Fabrics
We understand that everyone is an individual and has their own ideas when it comes to creating the perfect finish. With this in mind, we offer a huge range of high quality fabrics to choose from, taking both traditional and contemporary weaves into account. Why compromise on your vision when you want to achieve the perfect finishing touches to your inner sanctum? A truly bespoke bedroom can only exist with the optimum level of tools to work with. We have a Standard and Premium fabric swatch range to choose from:

Standard consists of Chenille, Glitz, Naples & Velvet.

Premium includes Verona, Wool & Fusion.


1 & 2 Man Delivery Options
Depending on what your bespoke headboard entails, you'll be given certain delivery options. Strutted headboards are compact enough to be dispatched via Parcelforce, with all of the usual benefits including tracking and text messages to let you know what time the delivery is likely to be.

The premium floor standing headboards are handled by home delivery specialists Panther Logistics. They'll also contact you with ETA information, but have an additional level of service available; 2 Man Delivery to your room of choice. See details at the checkout for more information.


What Our Customers Have To Say About Us