The UK's No.1 Independent Bed Retailer
Call our sleep experts on 01642 613684
Special Size Bed Frames
Please select dimensions based on your mattress size.
The Bed frame will be up to 4'' bigger than the selected sizes.
For a mattress size of
W 3'0" 168cm x L 6'0" 183cm
The Bed Frame Dimensions will be up to:
W 3'4" 168cm x L 6'4" 183cm
Perfect for tall people
As we all come in various shapes and sizes, a standard size bed isn't always comfortable. Sometimes a typical bed can be a hindrance if you're finding yourself unable to move due to limited space. That's why our special size bed frames may be the perfect solution to your problems.
Custom Made Beds For Box Rooms
Sometimes a standard size bed frame won't fit in a small box room. This can be a real pain if you're expecting somebody over to stay or wanting to expand the family. Our odd size bed frames can be produced to the exact measurements you require. Just select your sizes to get started.
Need A Low Head End?
Do you need your special size bed frame to go against a wall with a sloped ceiling? Maybe you have a room with an awkwardly positioned window. Either way, a custom-made studio bed could be the ideal solution! Simply choose your dimensions from the size selector and look out for the studio beds in the available range.
We also offer divan beds in custom sizes that can be made exactly to your specifications, with or without an optional headboard, so they're perfect if you're low on ceiling space.
More Space for Furniture
You might be in the awkward situation where, due to the rooms' size, you're considering sacrificing storage for sleeping space. If a standard size means you cannot include your ideal furniture, an odd size bed frame would allow you to reclaim those precious few inches that make all the difference. Your frame will also include a certain amount of space underneath, which is ideal for storage boxes or loose drawers.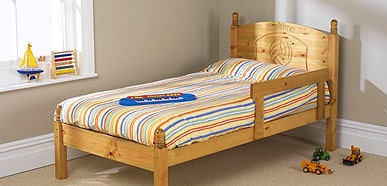 Bespoke children's beds
Are you looking for a bespoke kid's bed frame? Is your child's bed too small? These special size bed frames might be the solution.
For shared bedrooms or if your kids host a lot of sleepovers, we also supply custom shorty bunk beds! If you require any further help, simply contact us and we'll assist you in the process.
Ideal for IKEA mattresses
If you're the owner of an IKEA mattress, you will be aware that all of their mattresses come in continental sizes. This can be a problem if you're looking for a new frame to fit the mattress you already own. Luckily, our made to measure bed frames can be made to suit your mattress and can save you a lot of money if you would otherwise need to replace the lot.
Alternatively, you can order a special size mattress straight from us. Made to fit your special size bed frame, you can rest assured that your mattress will fit perfectly.
Perfect for Caravans
Whether you own a static caravan, touring caravan or a motor-home, a special sized bed frame could be the perfect solution for you. If you're limited on space, check the grid above and select your bed size to match the dimensions of your caravan mattress.
Simply call us today on 01642 613684 and a member of staff will be waiting to assist you.
(We're open Monday to Sunday - Normal Business Operating Hours)
Quality Pine
There is something quite special about the beauty of natural wood grain. The reason why pine beds have stood the test of time is down to the way in which their rustic aesthetics can complement either traditional or contemporary decor. Our range of bed frames is designed to showcase the personality of natural pine, giving a unique quality to each and every bed.
British Made Beds
In an ever-increasing globalised world where more and more products are being mass produced in both China and the Far East, it's important that custom made British products are still available with no compromise on service or quality.
We're dedicated to providing our customers with a comprehensive range of the best handmade special size bed frames on the market. Each one is made to order and is specially crafted for each individual customer. So, you can also be safe in the knowledge that your bed hasn't been sitting in a warehouse collecting dust.
Taking The Hassle Out Of Delivery
Delivery of your made to measure bed frame will be within two weeks of your order being placed and is free of charge if you live in mainland UK. Once your frame is ready, you'll receive a phone call to book in a specific delivery date. On the day itself, the driver can also give you a ring when they are on the way, so you can plan for the bed's arrival.
Does a bespoke bed that's ordered today and delivered within a fortnight sound too good to be true? Well here's how we do it:
What Our Customers Have To Say About Us